Traditionally, broadcast workflows rely on baseband signals requiring dedicated connectors and cables. Typically HDMI, SDI, and DVI are used for video content while XLR, RCA, and TS are for popular audio delivery. There are also many kinds of cables for control and tally. It's easy for a studio, AV installation or meeting room to be overwhelmed by a tangle of cables.


The Advantages of Video over IP
First, IP-based transmission runs bi-directionally: and all signals are routed over a network cable. A single Ethernet cable can deliver video, audio, control signals, and power the device (where supported). One cat 5e cable can replace a video cable (HDMI or SDI), an audio cable, a tally wire, and a power cable. This helps AV teams reduce the cost, timescale, and management overhead of video installations.





Second, Running over an IP network, every NDI device shares the same connection. When NDI devices are installed, they are instantly available as a video source and/or destination. The IP-based connection also makes remote production possible. With NDI, two production teams can work together remotely. A production studio in LA can work with another camera crew in New York over the network, in real-time.

System complexity is also a big advantage for video over IP, especially in large-scale deployments. In traditional studios, technicians need devices to extend signals, such as converters and repeaters. With video-over-IP, it's child's play to extend and scale a network, with almost no limit.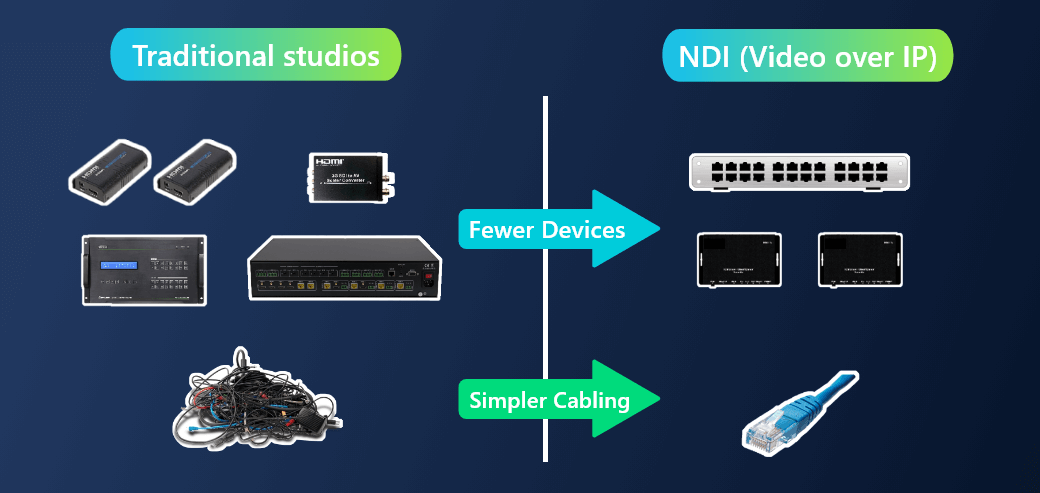 A common concern with video over IP is that AV signals will overwhelm the IT network, while video will suffer latency (delay). As a highly efficient protocol, NDI|HX addresses these two issues. NDI|HX provides high-quality, very low latency transmission, and users have many options to control their bandwidth to suit their network environment.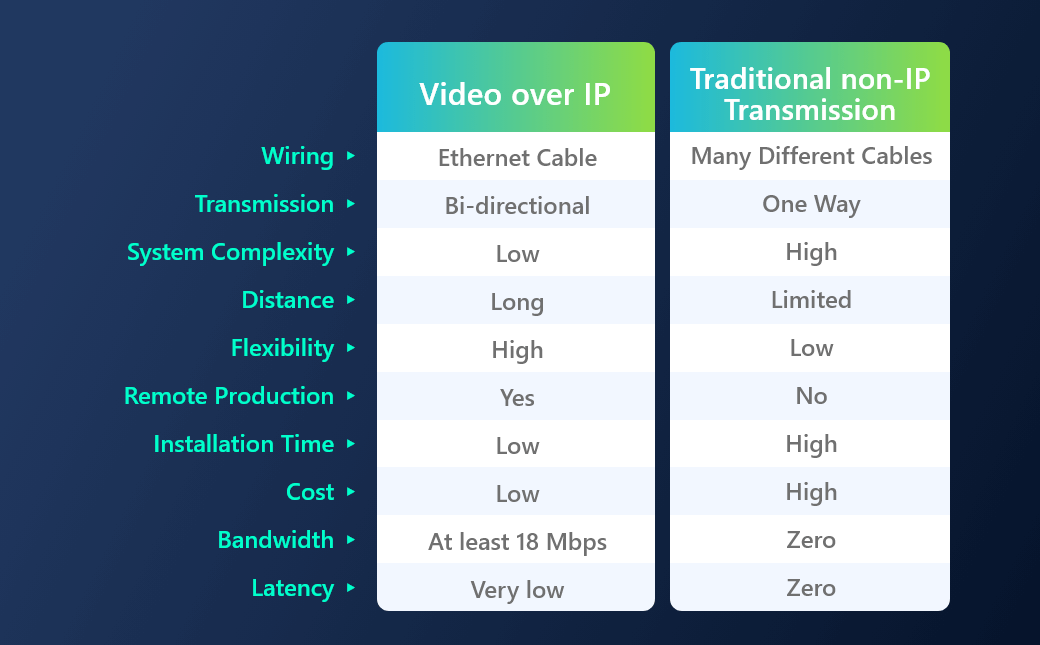 *NDI® is a registered trademark of the Vizrt Group.