What is Remote Production? 
Why would organizations and production companies want to connect cameras in one location to a switcher in another? Remote production (REMI or Remote Integration Model) has many advantages. 
1. Reduced Operational and Travel Costs 
Outside broadcasts are expensive to run. Portable production units installed temporarily in a venue, truck, or festival field take time to be configured. Operators and technicians are required on-site at a considerable cost. Be connecting cameras on-site with a remote production studio reduces setup time, travel cost, and insurance overheads. 
2. Use of Expertise 
Producers of global events can exploit the talent of the best talent available. That could be a vision mixer in Mexico City, a graphics operator in New York, and a closed caption service in Brussels. Virtual teams can work together to deliver world-class productions, wherever their location. 
3. Professional Self-Shooting 
Filming politicians, business leaders, and celebrities are part of the media routine: TV crews and corporate video producers have been doing it for years. However, with travel curtailed during global lockdowns, there has been no chance to dispatch a video crew to shoot an interview. Instead of relying on the interviewee's poor-quality laptop webcam, a PTZ camera can now be couriered to them. Positioned on their desk, the camera can be remotely controlled by a producer to shoot a professional film of them, with the stream channel to the producer for live transmission or recording. 


NDI Remote: Dialling into your NDI production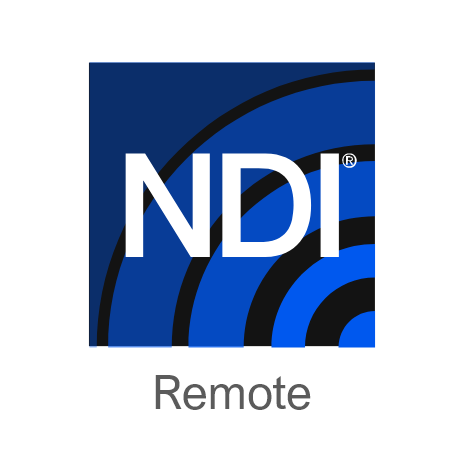 The benefits of this kind of remote production are plain to see. With NDI Remote, external camera feeds can be connected to the Internet to contribute to a live broadcast. 

It's as simple as sharing a QR code or email-able link with a remote user who can click to join their SmartPhone, webcam, or any camera that can stream via a web browser to live production. Using a technology called WebRTC, the connection is fast and stable and the picture quality is good. With NDI Remote, up-to 10 remote guests can contribute live video streams to live production. 


 
How can we collaborate over Remote NDI Networks? 
Developed as a local area production format, full NDI is not designed to be natively distributed over a WAN or the Internet or to switch from one subnet to another. It is inadvisable, impractical, unsafe, and unreliable (and often impossible) to share native NDI streams over remote networks. 

Why is this? The public Internet (and even a corporate WAN) is simply not designed to deliver streams of broadcast data between sites, perfectly synchronized with camera control signals. Live video streaming is actually a carefully choreographed balancing act. Whether it's YouTube, Facebook, and IPTV system or broadcast television delivered over the Internet, the streaming service supplier (and the device you are watching on) are working hard to achieve a continuity of service. This may mean an occasional drop in quality and buffering of frames in the local memory or at the service provider. Therefore, no two viewing devices will be exactly in sync, even when they're on the same network, in the same room. 

In streaming media, quality of service does not mean a perfect service all the time. In difficult network conditions, services will make big compromises to continue to deliver a live picture and will sacrifice video quality to maintain a stream. This does not matter so much when audiences are simply watching a video on Facebook, but in AV and broadcast, video feeds need to be high quality at all times. And they need to be delivered in real-time without any jitter or delay. 

So the question is, can NDI production cope with the public Internet and all of its shortcomings? Yes, but it needs a bridge... 


NDI Bridge: Where NDI meets Webstreaming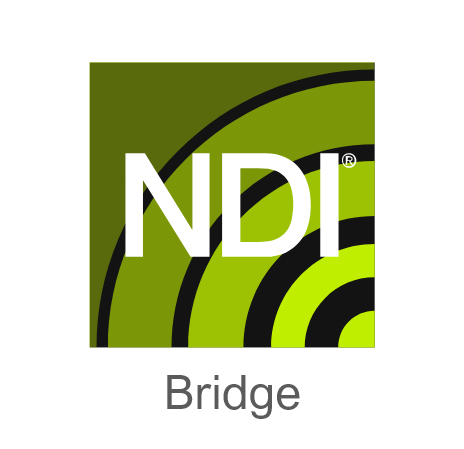 NDI was devised for use on professional, reliable, managed local networks. It is simply unsuitable for use on wide area networks or the Internet. In order to provide high quality, synchronized streams, NDI needs to hitch a ride! 

Dedicated web streaming technologies such as RTMPS, UDP, and SRT were developed to take the unpredictable nature of the Internet into consideration. They deliver greater efficiency, reliability, and speed in real-time video communications than protocols designed for stable local area networks (LAN). They use compression, encoding, and sophisticated error correction that are overkill (and usually unnecessary) for local networks, but over regular broadband connections, they can deliver an excellent service.

Marry NDI with streaming protocols and services, and the possibility of remote collaboration becomes a reality. So although NDI is unsuitable for web streaming in its native form, remote NDI production is certainly not out of the question. 

When it comes to the bi-directional connection of multiple sources and NDI devices, Newtek's NDI Bridge is the solution. By running NDI Bridge at two remote locations, facilities can be fully and securely linked for collaborative production across continents. 


What does NDI Bridge do?  
NDI Bridge handles multiple incoming and outgoing feeds, encoding and transcoding NDI, NDI|HX and NDI|HX2 streams, and intelligently balances its processing and priorities based on user requests and available bandwidth. Because of this, NDI Bridge needs to run on a dedicated, powerful computer system at both locations. 

When connected on very high-speed networks, facilities can enjoy bi-directional sharing of full NDI sources, devices, and resources. On slower connections, NDI Bridge can transcode sources to NDI|HX2 with minimal loss of quality. 

The potential for NDI Bridge is huge, enabling AV and broadcast teams to work together and use specialist third-party production services no matter their location. 

At a political rally, crews can now adapt to remote production. They may have teleprompters, PTZ cameras, and sound devices on site at a venue in Melbourne, Australia, being controlled and mixed at the production in Auckland, New Zealand. Titling and live graphics could be provided by a specialist service in Singapore, with the commentary team joining the production from a studio in Los Angeles, California. 

In a house of worship setting, PTZ cameras and microphones can be installed locally and controlled in a production studio – situated anywhere. Multiple houses of worship can be joined together to share various of each other's services communally all controlled from a single studio. 

For college sports, remote production is now an option, with the switcher and cameras controlled off-site. With NDI Bridge, there is no need for the director to be situated in the same city, state, or even country as the production kit. 


NDI Bridge: Simplifying Remote Production   
None of the scenarios described above is unique to NDI Bridge. There are other solutions that can join remote production teams. However, what NDI Bridge does is simplify the entire process and democratize the workflow by making it available cost-effectively to a whole new customer base. 

Most alternative solutions are highly complex and need continual management by network engineers, broadcast technicians, and streaming experts. NDI Bridge delivers great performance, flexibility, and scalability for a fraction of the cost. 



Click here Back to Top ↑