The PoE+ standard (IEEE 802.3at-2009) provides up to 25.5W of power, compared with PoE's 15.4W. The arrival of PoE+ was a significant moment for AV manufacturers such as Lumens, who were now able to build network power into PTZ cameras, encoders, decoders, controllers, and document cameras. 
 

What's the difference between PoE+ and PoE++?   
The IEEE 802.3bt-2018 PoE++ standard increases the wattage further compared with PoE+. The new standard introduced two additional power types: up to 51W and up-to 71.3W power delivery. While the majority of, for example, cameras can be powered by a 25.5W supply or less, certain devices, such as the VC-A71P PTZ camera that incorporate electrical motors and multi-stream processing demand the higher wattage supplied by PoE++.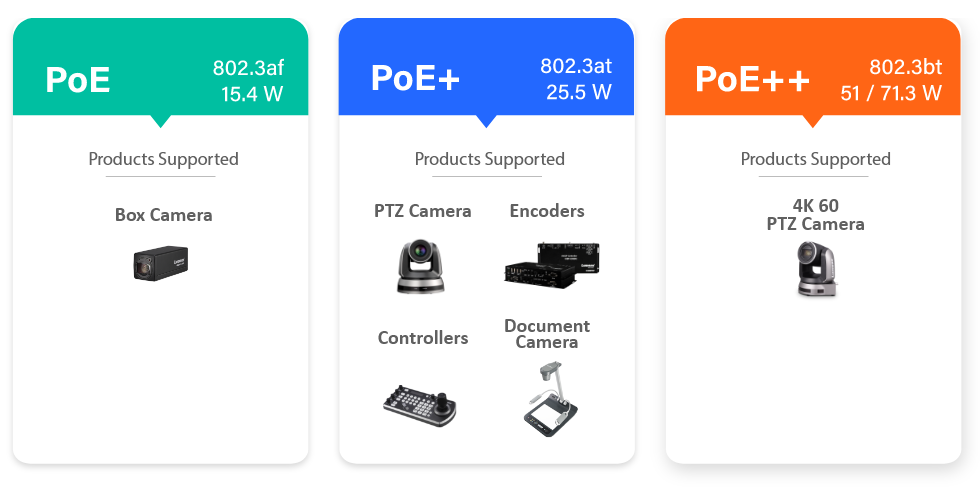 What are the environmental benefits of PoE?  
Remote Power
Centralizing and automating the power settings of AV devices can deliver serious power savings. While users will forget to turn off equipment manually, PoE connected kit can be shut down remotely. Making the installation more intelligent in this way is an instant route to energy savings. Although some legacy equipment can be programmed to go into low power mode after a period of inactivity, or to power off according to a routine weekly schedule, this often requires (fiddly) management at the device level and manual over-ride during extended holiday downtimes. Being fully controllable, PoE is a very efficient electricity network.
Sustainable Installation
One of the other major benefits of PoE is in the reduction of dedicated power lines and the requirement for fewer sockets around a building or facility. Reducing the need for electricians, eliminating the requirement for power adapters, and cutting down on the cost of the electrical infrastructure have immediate environmental benefits, measurably limiting the environmental impact of an installation.

How do we migrate to PoE?   
There are clear environmental, financial and administrative benefits to PoE. Installing PoE is simple, the technology is reliable, and it is safe. Legacy networks can be upgraded using PoE injectors, while new PoE-ready switches are readily available from manufacturers such as NETGEAR.