HX3 employs GOP technology to deliver this step change in video quality. So, what is GOP? Compressed video streams consist of a consecutive series of GOP (groups of pictures). The GOP contains key-frames and inter-frames within encoded bitstreams. Key-frames (also known as I-frames) have the picture's complete information, describing all the frame's details. An inter-frame (p-frame or b-frame) only describes the part of a picture that has changed. That's how compression technology gets rid of redundant information and reduces the required bandwidth. In a nutshell, more keyframes mean more data and higher picture quality, while more inter-frames mean less data and a slight loss of video quality. As well as delivering higher image quality, keyframes require less computational processing, so the fewer inter-frames, the lower the latency.


GOP Length in NDI|HX 3 Video Stream Encoding
The distance between two keyframes determines the GOP length. For example, a GOP length of 30 means a keyframe is inserted every one second (when shooting at 30 frames per second). In ND|HX3, the GOP can be set to 1 or 2. By setting GOP to 1, only keyframes are produced. This gives maximum picture quality and very low latency.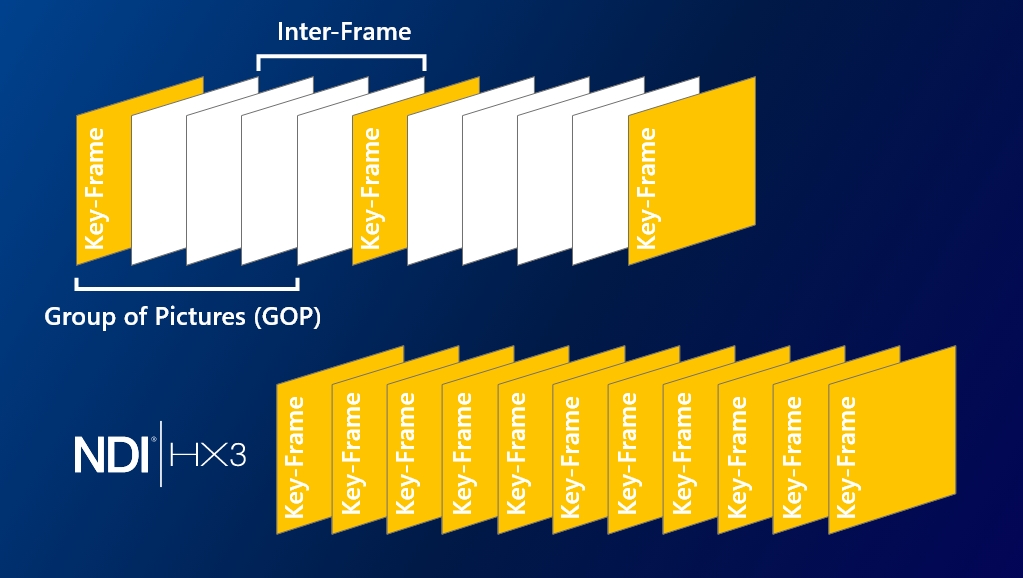 NDI|HX3 delivers the perfect balance of bandwidth and quality. Previously, users appreciated the video quality of full NDI, but many networks were unable to cope with high data rates. Conversely, NDI|HX and NDI|HX2 were ideal in terms of bandwidth, but with a small sacrifice in terms of image quality. With the advent of version 3, NDI|HX is suitable for most modern IP networks, yet delivers superb video quality with minimal delay. 
Whereas NDI requires an FPGA, NDI|HX3 has no such requirement. This is very important! An FPGA is a programmable hardware device or chip. It's an extremely flexible electronic component that can be programmed to achieve virtually any digital function. However, an FPGA contains millions of Logic-Blocks that require high power consumption and generate heat. The cost of an FPGA is also expensive. 

NDI|HX3 supports ARM-based devices. An ARM-based solution is very widely used and is low cost. It makes it possible to run NDI|HX3 on most hardware devices including mobile devices and affordable cameras.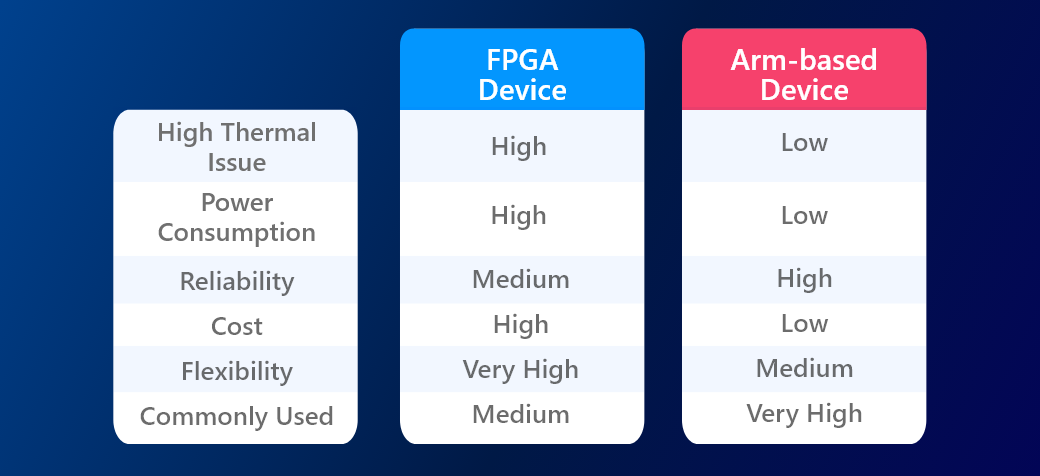 NDI 5 tools and applications offer users and administrators the ability to manage NDI networks, enhance creative workflows, monitor sources, control devices and connect users locally and remotely. The great news is that NDI 5 Tools can natively decode NDI|HX3, including NDI Bridge. NDI|HX3 is supported in the current NDI SDK, and an Advanced SDK for NDI|HX3 is available.
*NDI® is a registered trademark of the Vizrt Group.