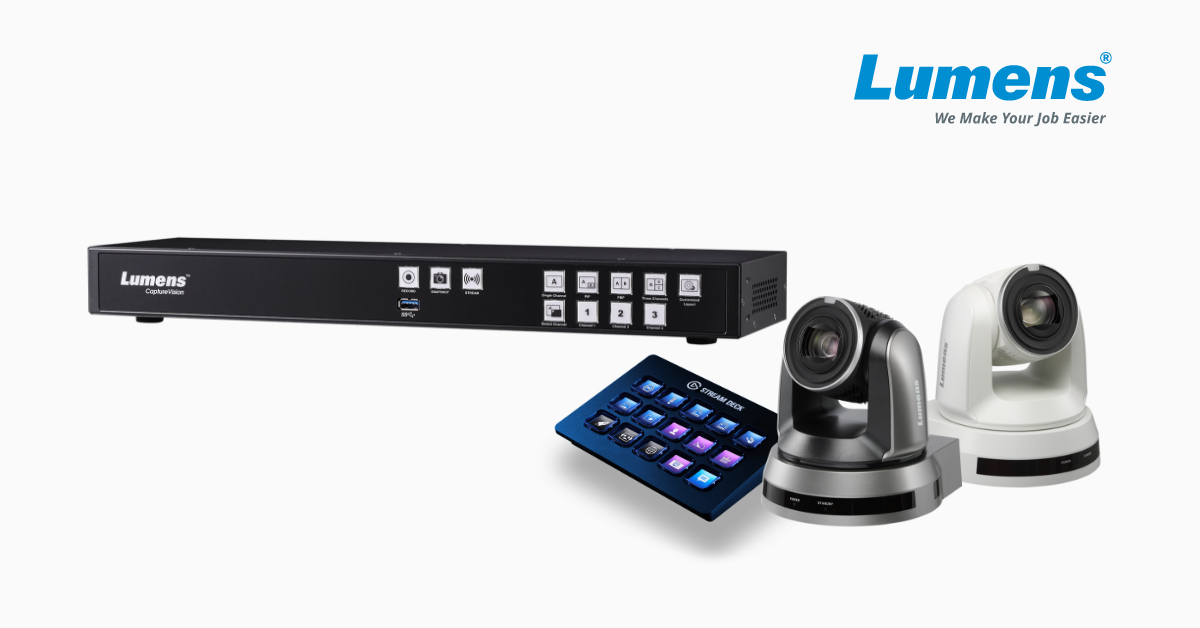 Hsinchu, Taiwan, April 27, 2021 – Lumens® Digital Optics Inc., the global leader in the Pro A/V manufacturing industry, today announced the successful integration of its 4K and Full HD PTZ cameras and LC200 into open-source Bitfocus companion for Elgato Stream Deck. The integration allows Stream Deck to control camera actions and adjust image settings, even start auto-tracking cameras. With quick taps, you can control Pan-Tilt-Zoom, presets, start recording and streaming, switch channel sources, and switch scenes or overlays.
The tool is compatible with the VC-TR1 Auto-Tracking PTZ camera, the VC-A71P 4K IP PTZ camera, the VC-A61P IP PTZ camera, the VC-A50P 1080p IP PTZ camera, the VC-BC701P 4K Box camera, the VC-BC601P 1080p Box camera, the VC-BC301P 4K IP POV camera and LC200 CaptureVision System.
Elgato Stream Deck is a powerful control pad that makes control easier for live video production. Lumens devices' integration into open-source Bitfocus Companion enables Stream Deck to control multiple video production gears, including Lumens IP cameras and Lumens recording, live streaming processor. The Elgato Stream Deck also can streamline broadcasting software like OBS and vMix by programmable keys shortcuts. The integration among Lumens, Elgato Stream Deck, and Bitfocus Companion make your live streaming better and easier for any events like live performances, corporate seminars, live worship, government publicity, etc.
Availability
Lumens companion module for the Elgato Stream Deck on Bitfocus Companion, the open-source software is available now, how to download: https://www.mylumens.com/en/Page/18/Lumens-Companion-Module-Installation-Guide
Information:
For more information about Elgato, visit: https://www.elgato.com/en
For more information about Lumens, visit: www.MyLumens.com
Follow Lumens on Facebook: https://www.facebook.com/Lumensinc
Follow Lumens on Twitter: https://twitter.com/LumensLadibug
Follow Lumens on LinkedIn: https://tw.linkedin.com/company/lumens-integration-inc
Follow Lumens on YouTube: https://www.youtube.com/c/MyLumens
Press Contact:
Tiffany Lin, Marketing Specialist
Email: tiffany.lin@lumens.com.tw , Phone: +886-3-552-6255 ext. 341
About Lumens Digital Optics Inc.
Lumens® offers superior 4K and Full HD PTZ cameras, videoconferencing cameras, document cameras, capture vision system and a wireless presentation system. The cameras can be easily set up and display quality 4K and Full HD images. Lumens cameras provide a dynamic live production for every environment.