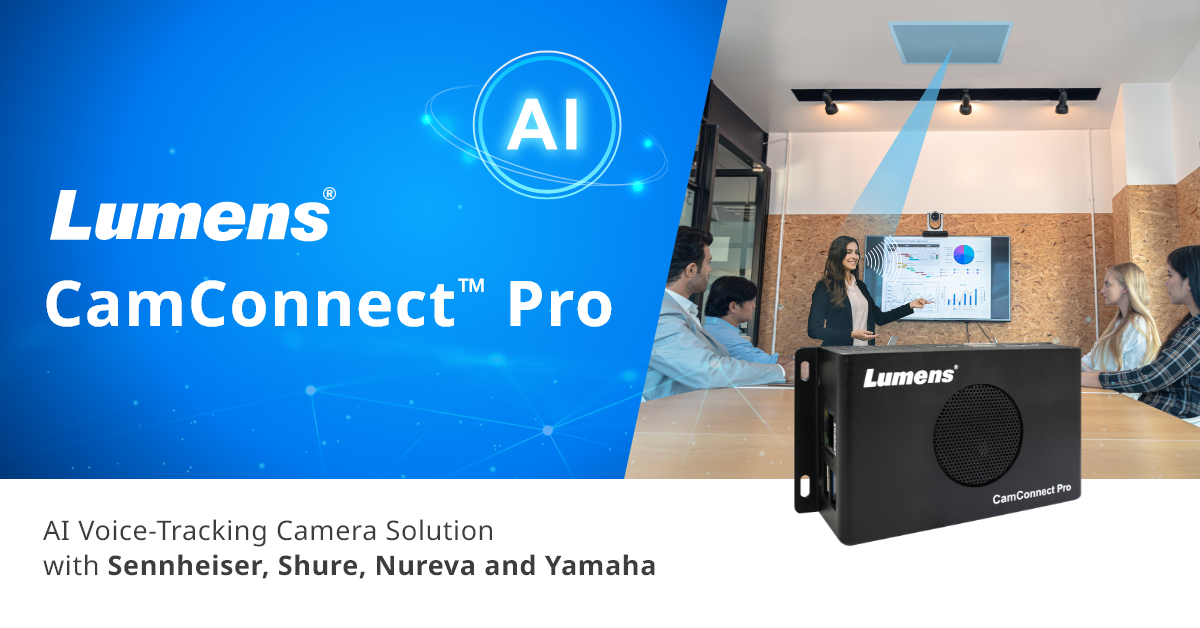 Hsinchu, Taiwan, June 07, 2023 – Lumens® Digital Optics Inc. launches CamConnect™ Pro and its AI-powered AI-Box1 at Infocomm 2023 in Florida, USA. CamConnect Pro is a step-change in hybrid meeting equity. The solution transform video conferencing from a passive experience featuring an ultra-wide angle view of an entire room, to an equitable session where in-room delegates and remote guests can interact in a purposeful and meaningful manner.

CamConnect Pro with its intelligent AI-Box1 works by automatically synchronizing up-to four PTZ cameras with real-time acoustic data from directional microphones. CamConnect Pro supports many of the industry's most popular directional microphone systems including models from Nureva, Sennheiser, Shure, and Yamaha.

As well as switching between cameras to achieve the best shooting angle, CamConnect Pro includes the ability to place individuals side-by-side on screen or in a quad-split display. This makes it easier than ever to follow and interact with lively conversations, discussions and debates.

"With CamConnect Pro, voice tracking moves into the mainstream. It's easy to set up, runs autonomously and delivers results which will transform not just video conferencing sessions, but also training and education. CamConnect Pro takes the concept of audio tracking to a whole new level with television-style camera switching and mixing." Commented Steven Liang, Head of Product Development at Lumens Digital Optics Inc.

CamConnect Pro is a network managed device which supports Ethernet and USB inputs, including cameras and meeting collaboration tools. This means that IP cameras can be connected, controlled and powered over Ethernet, with no need for extended USB or HDMI wiring. This allows for greater flexibility in terms of installation and considerable cost-savings.

The CamConnect platform is supported by directional microphones from the likes of Nureva, Sennheiser, Shure and Yamaha. Rooms pre-installed with directional microphones can be upgraded by installing Lumens IP cameras and the CamConnect Pro AI-Box1, to enable full, autonomous voice-tracking camera production for video conferences. CamConnect Pro also has a key role to play in education, training and conferences, with cameras identifying and tracking presenters as they move across the stage.

More Details
For more information about Lumens CamConnect™ Pro (AI-Box1 CamConnect Processor), please visit:
https://www.mylumens.com/en/Products_detail/1094/CamConnect-Pro-AI-Box1

About Lumens Digital Optics Inc.
Lumens® Digital Optics Inc., a Pegatron Group company, is a leader in optical products. Lumens' product offerings include HD and 4K PTZ cameras, auto-tracking and auto-framing cameras, media processors, IP transmitters and decoders and document cameras. Founded in 1998, the company was created by a team with a deep technological heritage of image processing, video electronics, and optical technology. With the support of the Pegatron Group, Lumens is continuously improving product designs to be used in video studios, live events, classrooms, conference rooms, and for distance learning. For more information, visit Lumens website.

Press Contact, Lumens
Eling Chen, Marketing Manager
Email: eling.chen@lumens.com.tw, Phone: +886-3-552-6255 ext. 238