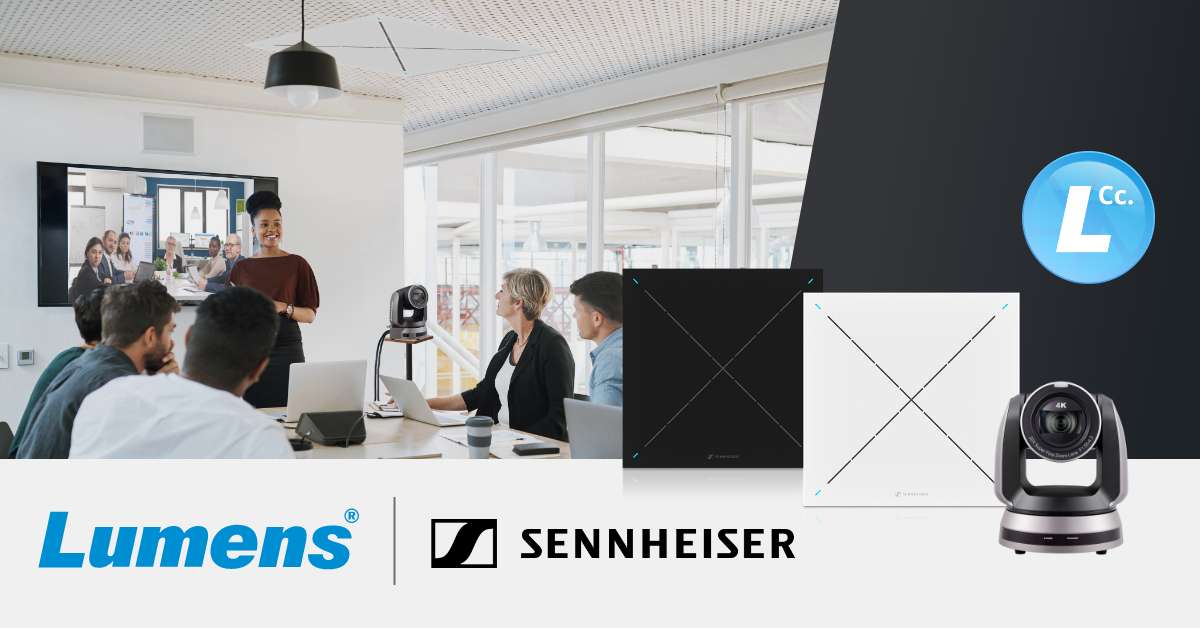 Hsinchu, Taiwan, January 24, 2023 – Lumens® Digital Optics Inc. has today announced the integration of its USB PTZ cameras with Sennheiser's TeamConnect Ceiling 2 (TCC2) microphone. The combined solution is set to deliver a leap forward in hybrid meetings, with remote delegates and satellite offices benefitting from a greatly enhanced experience.

The explosion in unified communications and video conferencing over the past three years has transformed the way teams connect. However, despite improvements in screen sharing, microphones and video capture technology, virtual guests still often feel disengaged from the physical meeting room.

Now, Lumens' CamConnect software synchronizes with Sennheiser's patented automatic dynamic beamforming technology to enable the in-room PTZ camera to track the position of the live presenter. This means that remote delegates can immediately identify and engage with the speaker, rather than watch a wide-angle view of the entire room.

"This is an exciting proposition for the market that brings together two leaders in meeting room technology. By adding accurate voice-tracking to our HD and 4K PTZ cameras, we are delivering a new level of meeting experience that we expect to become the new standard in the industry." Commented Steven Liang, Head of Product Development at Lumens Digital Optics Inc.

"We are very pleased that Lumens has added support for our TeamConnect Ceiling 2 microphone to their innovative CamConnect software." said Charlie Jones, Global Alliance & Partnership Manager, Business Communication, Sennheiser. "It's incredibly important for meeting attendees to have the ability to easily follow the conversation they are hearing though our best-in-class ceiling microphones like the TCC2. When you combine the TCC2's dynamic beamforming technology with Lumens USB PTZ cameras you create a premium meeting experience that ensures everyone can be seen and heard."

Organizations that have already invested in Sennheiser's TCC2 microphones can now, and for a very low cost, enable automatic voice detection in a wide range of Lumens PTZ cameras. The technology can also be deployed in classrooms and lecture rooms where voice tracked cameras transform a static presentation into truly televisual experience. The entire process is automated, delivering significant operational costs.

CamConnect software can be downloaded at no cost from the Lumens website. The application runs in a standard Windows environment and supports all Lumens USB PTZ cameras.

More Details
For more information about Lumens CamConnect Software, please visit:
https://www.mylumens.com/en/Products_detail/1085/Lumens_CamConnect
For more information about Sennheiser TeamConnect Ceiling 2 Microphone, please visit:
https://en-us.sennheiser.com/tcc2

About Lumens
Lumens® Digital Optics Inc., a Pegatron Group company, is a leader in optical products. Lumens' product offerings include HD and 4K PTZ cameras, auto-tracking and auto-framing cameras, media processors, IP transmitters and decoders and document cameras. Founded in 1998, the company was created by a team with a deep technological heritage of image processing, video electronics, and optical technology. With the support of the Pegatron Group, Lumens is continuously improving product designs to be used in video studios, live events, classrooms, conference rooms, and for distance learning. For more information, visit Lumens website.

About Sennheiser
We live and breathe audio. We are driven by the passion to create audio solutions that make a difference. Building the future of audio and bringing remarkable sound experiences to our customers – this is what the Sennheiser brand has represented for more than 75 years. While professional audio solutions such as microphones, meeting solutions, streaming technologies and monitoring systems are part of the business of Sennheiser electronic GmbH & Co. KG, the business with consumer devices such as headphones, soundbars and speech-enhanced hearables is operated by Sonova Holding AG under the license of Sennheiser.
www.sennheiser.com
www.sennheiser-hearing.com

Press Contact, Lumens
Eling Chen, Marketing Manager
Email: eling.chen@lumens.com.tw
Phone: +886-3-552-6255 ext. 238


Press Contact, Sennheiser
Jeffrey Horan, Global PR/Media Manager
Email: Jeffrey.horan@sennheiser.com
Phone:+1 860-598-7539