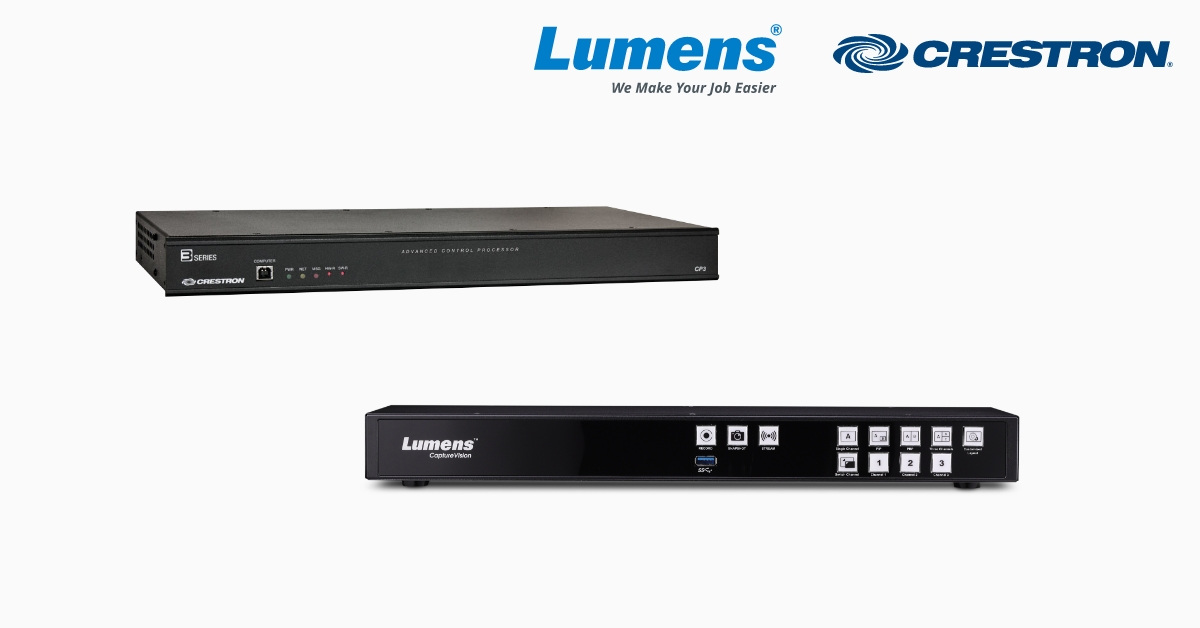 Hsinchu, Taiwan, May 04, 2021 – Lumens® Digital Optics Inc. today announced the successful integration of the LC200 CaptureVision System with the in-demand Crestron® control system. Lumens is the leader in the Pro AV industry and is committed to providing Pro AV solutions to make technical projects easier for the end-user.
The Crestron Control System is an enterprise-class control system with a dedicated Control Subnet port. It's applicable for the core of any modern networked home or commercial building, managing and integrating all the disparate technologies.
The all-in-one video production system LC200 seamlessly integrates with the Crestron 3-Series and 4-Series Control System. The system connects to Lumens LC200 via IP and RS-232 for start / stop recording, scheduling, scenes and layout switching and camera control, etc. Also, the system enables users to live stream and record video content easier. This integration solution helps the Crestron system deliver a wide range of applications such as education, corporate, telehealth, house of worship, and much more.
Availability
The Lumens LC200 CaptureVision system module for Crestron Control System now is available:
https://applicationmarket.crestron.com/lumens-digital-optics-inc-lc200/
Information:
For more information about Lumens, visit: www.MyLumens.com
Follow Lumens on Facebook: https://www.facebook.com/Lumensinc
Follow Lumens on Twitter: https://twitter.com/LumensLadibug
Follow Lumens on LinkedIn: https://tw.linkedin.com/company/lumens-integration-inc
Follow Lumens on YouTube: https://www.youtube.com/c/MyLumens
Press Contact:
Tiffany Lin, Marketing Specialist
Email: tiffany.lin@lumens.com.tw, Phone: +886-3-552-6255 ext. 341
About Lumens Digital Optics Inc.
Lumens® offers superior 4K and Full HD PTZ cameras, videoconferencing cameras, document cameras, capture vision system and a wireless presentation system. The cameras can be easily set up and display quality 4K and Full HD images. Lumens cameras provide a dynamic live production for every environment.