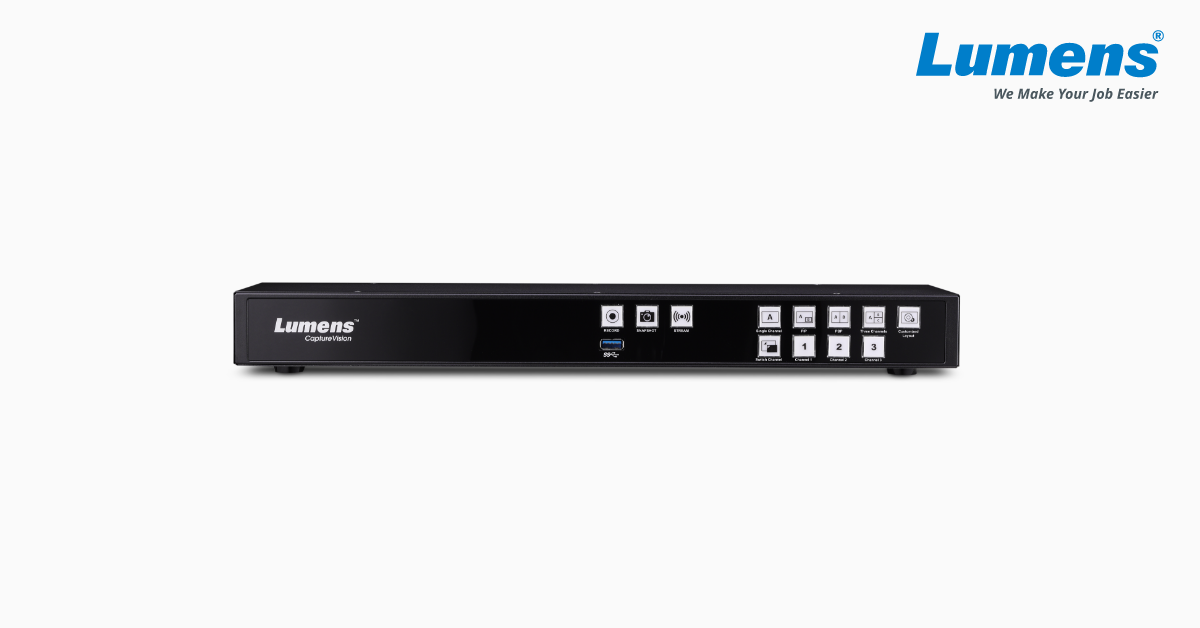 Hsinchu, Taiwan, March 18, 2021 – Lumens® Digital Optics Inc., today announced the firmware update for the LC200 CaptureVision System. The all-in-one video production system supports four video sources, recording, streaming, mixing, and switching at 1080p from content laptops to Lumens IP PTZ camera. The system can stream and record simultaneously at different configurations. This makes the LC200 the perfect core system for your video project.
The LC200 firmware update includes features that support the user-friendly GUI director on a webpage. The user can control and manage video content remotely. With a touch screen for HDMI plug and play the GUI control operates the LC200 more effectively. Users can control the LC200 with a third-party wireless numeric keypad. With the press of one button, the user can control the LC200 for recording, streaming, or adjust the shooting angle of the PTZ camera.
This easy-to-use advanced solution supports on-screen system displays such as date and time to meet any requirements. Video sources can be renamed making live production efficient. Recorded files can be stored in the built-in hard drive, an external USB device, or the FTP server. The LC200 allows users to upload videos to NAS (network-attached storage) after recording automatically.
Availability
The update features for LC200 now is available, download: https://www.mylumens.com/en/Products_detail/39/LC200
Information:
For more information about Lumens, visit: www.MyLumens.com
Follow Lumens on Facebook: https://www.facebook.com/Lumensinc
Follow Lumens on Twitter: https://twitter.com/LumensLadibug
Follow Lumens on LinkedIn: https://tw.linkedin.com/company/lumens-integration-inc
Follow Lumens on YouTube: https://www.youtube.com/c/MyLumens
Press Contact:
Tiffany Lin, Marketing Executive
Email: tiffany.lin@lumens.com.tw , Phone: +886-3-552-6255 ext. 341
About Lumens Digital Optics Inc.
Lumens® offers superior 4K and Full HD PTZ cameras, videoconferencing cameras, document cameras, capture vision system and a wireless presentation system. The cameras can be easily set up and display quality 4K and Full HD images. Lumens cameras provide a dynamic live production for every environment.