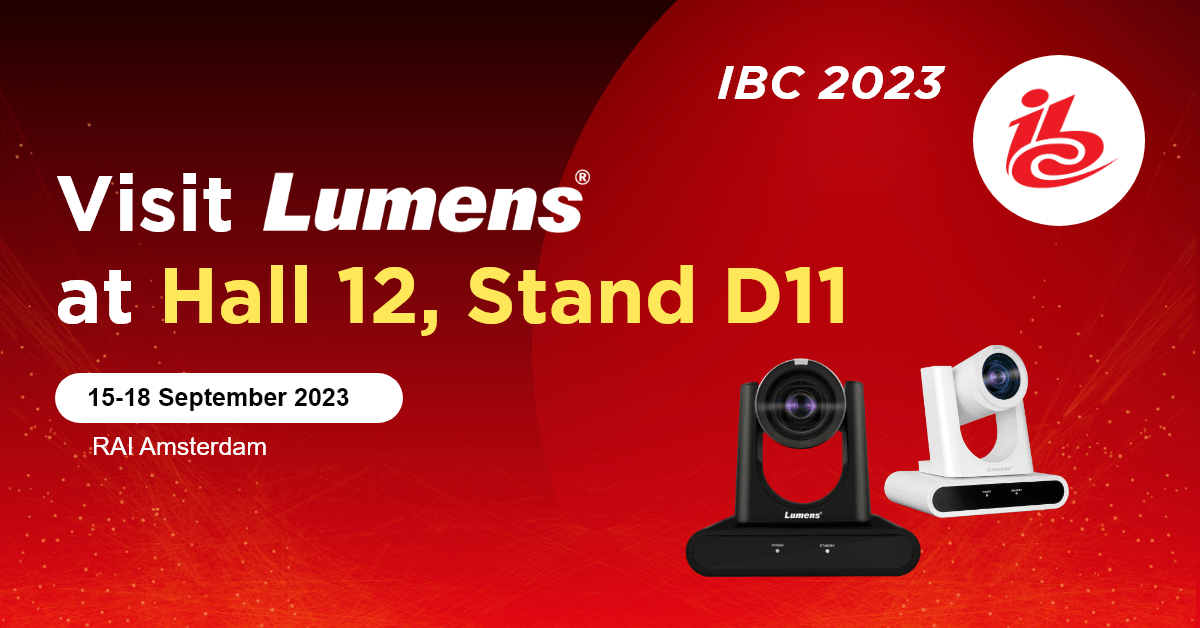 NETHERLANDS, IBC 2023 (STAND 12.D11), August 23, 2023 – Lumens® Europe will unveil new products at the RAI in Amsterdam that will accelerate the drive towards automated production. Making their debut on the stand are the CamConnect Pro voice-tracking solution, VC-TR60 4K IP PTZ camera and the VC-TR60 Dante AV-H ultra-wide auto-tracking PTZ camera with Dante AV-H.

"The pressure for automated production is hard to resist. R&D teams are now developing autonomous technology that is helping broadcasters make significant savings and produce more content than ever. We think that this will be a major theme at this year's IBC." Commented Kieron Seth, Marketing Director at Lumens Europe.

CamConnect Pro is new audio-tracking solution that automatically synchronizes the movement of PTZ cameras with real-time data received from directional microphone arrays. Supporting up-to 16 Sennheiser, Shure, Nureva and Yamaha microphone systems and four IP-connected PTZ cameras, CamConnect Pro automatically switches shots to continually frame the active voice.

"CamConnect Pro is a great multi-camera solution for video studios and visual radio. It's also perfect for lecture capture and digital learning, with its ability to focus on the presenter and their interaction with students." Continued Seth.

After set-up, CamConnect Pro-connected cameras work without user input, delivering significant operational cost-savings.

Alongside voice-tracking technology, Lumens will launch two new auto-tracking PTZ cameras. Their new generation facial tracking algorithms provide accurate results, even with twenty plus human subjects in the frame. The VC-TR60 features a 4K sensor paired with an ultra-wide 12x zoom lens with a maximum horizontal frame of view of 81°. Seth remarked:

"Auto-tracking cameras have traditionally found their home in the corporate world, houses of worship and education settings, both in single camera shoots and in combination with fixed camera positions. The new VC-TR60's 4K sensor and ultra-wide lens increases the versatility of auto-tracking technology, making it suitable for use in everyday studio production."

The VC-TR60 is joined by the VC-TR60 Dante AV-H which adds Dante AV-H to the streaming options offered by the range. VC-TR60, VC-TR60 Dante AV-H and CamConnect Pro will be on display at the Lumens stand in hall 12, with all products shipping immediately after the show.

More Details
For more information about Lumens IBC 2023, please visit:
https://www.mylumens.com/en/Page/88/Lumens-IBC-2023

About Lumens Digital Optics Inc.
Lumens® Digital Optics Inc., a Pegatron Group company, is a leader in optical products. Lumens' product offerings include HD and 4K PTZ cameras, auto-tracking and auto-framing cameras, media processors, IP transmitters and decoders and document cameras. Founded in 1998, the company was created by a team with a deep technological heritage of image processing, video electronics, and optical technology. With the support of the Pegatron Group, Lumens is continuously improving product designs to be used in video studios, live events, classrooms, conference rooms, and for distance learning. For more information, visit Lumens' website.

Press Contact, Lumens
Eling Chen, Marketing Manager
Email: eling.chen@lumens.com.tw, Phone: +886-3-552-6255 ext. 238