Lumens spearheads the promotion of NDI technology in the China market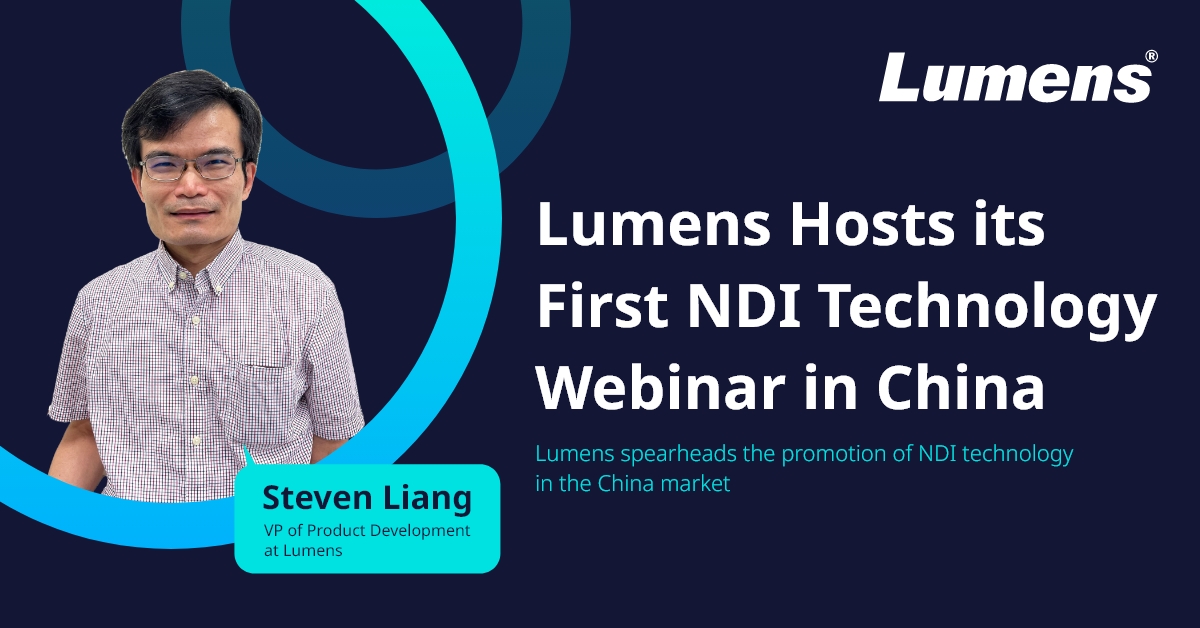 Hsinchu, Taiwan, June 21, 2022 – Lumens® today announced its successful first NDI Technology webinar in China. It attracted more than 300 technical experts and media from the ProAV Industry, including delegates from Barco, Epson, NEC, and NETGEAR.

NDI® (Network Device Interface) is the AV over IP standard developed by NewTek and released in 2015. Lumens is a key member of the NDI protocol working group, tasked with contributing to the development of this essential set of specifications and standards.

Steven Liang, VP of Product Development at Lumens, stated: "Due to the pandemic, AV over IP technology has grown in popularity in China over the past two years. We were delighted to share our NDI knowledge and experience with China's ProAV experts. We answered question on topics such as NDI 5, NDI|HX3, NDI applications and Lumens' new hybrid approach to live production. The NDI market is growing rapidly and strongly, and Lumens is looking forward to connecting with NDI users in China."


More Details:

For more information about Lumens and NDI® Integration Partnership, please visit:
https://www.mylumens.com/en/Page/26/Lumens-NDI-Professional-Video-Solutions

Read more Lumens NDI Technology Introduction:
https://www.mylumens.com/en/Blog?keyword=NDI

Press Contact:
Jasmine Fan, Marketing Manager
Email: Jasmine.Fan@lumens.com.tw; Phone: +886-3-552-6255 ext. 227
Information:
For more information about Lumens, visit: www.MyLumens.com
Follow Lumens on Facebook: https://www.facebook.com/Lumensinc
Follow Lumens on Twitter: https://twitter.com/LumensLadibug
Follow Lumens on LinkedIn: https://www.linkedin.com/company/lumens-digital-optics
Follow Lumens on YouTube: https://www.youtube.com/c/MyLumens
About Lumens Digital Optics Inc.
Lumens® manufactures broadcast-quality PTZ cameras, video conferencing cameras, document cameras, wireless collaboration technology, video processing systems, and video over IP devices. Based in Taiwan and part of the Pegatron Group, Lumens has offices in Asia, Europe, and the USA.