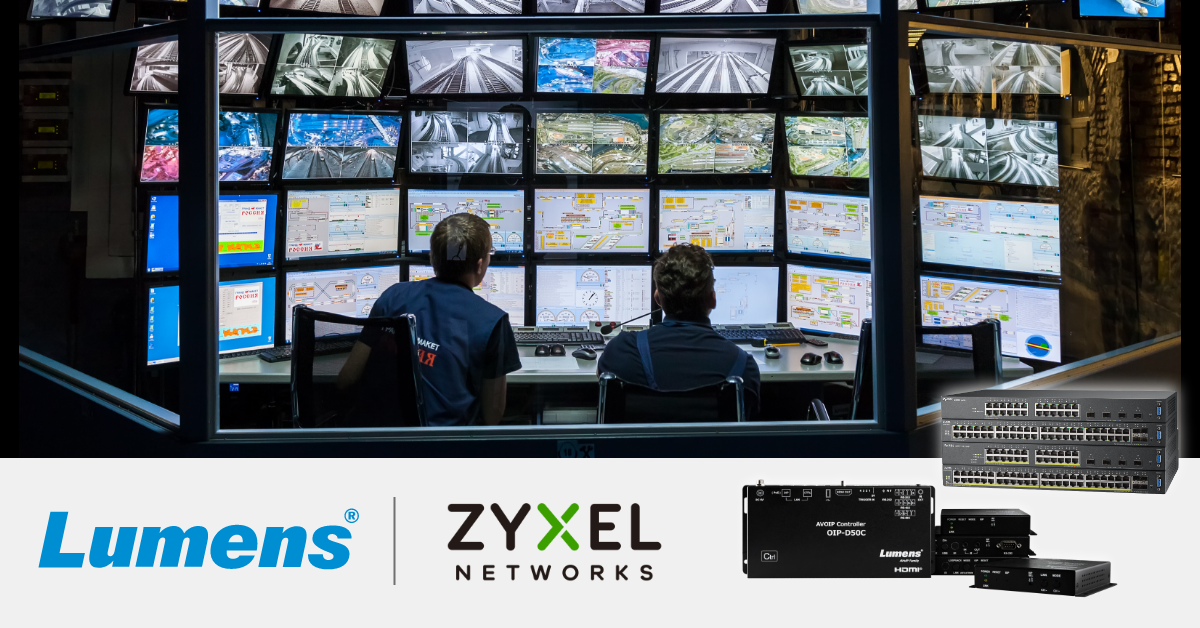 Lumens & Zyxel Networks
Integration Partnership: Professional Video Networking
Moving AV to IP networks
Transmitting AV signals over IP infrastructures is now a reality. Technicians and systems architects are quickly making the transition from SDI and HDMI-based installations to Ethernet infrastructures, to benefit from:

✓ Lower cost of initial investment
✓ Easier to scale and grow the network
✓ Integration with IT assets such as network storage
✓ Efficient media sharing over local and wide area networks
✓ Secure user administration and support
✓ Centralized deployment, management, and maintenance of media equipment

Why Zyxel Networks
Creating an Ethernet-based media network requires high-performance and dependable 1G and 10G switches. Its switches include a Network AV Mode optimized for AV over IP transmission. This reduces the need for complex user settings, reduces security risks, and greatly minimizes installation time.

Zyxel Networks' IP equipment is relied on by AV teams and media organizations across the world. The Network AV Mode is perfectly matched with Lumens IP cameras and transmitters to deliver low latency video transmission and media networking. Zyxel Networks is at the forefront of media networking: with built-in support for AMX, NDI, and Dante, its Network AV Mode is ideal for AV, video, and broadcast professionals.

Lumens AV over IP
A growing number of Lumens PTZ and box cameras support RTSP, Dante and NDI media protocols. Network-optimized, they output high-quality HD and UltraHD video at low latency over Ethernet and receive control data and tally instructions via IP. Lumens OIP range of video transmitters and controllers support network-based video transmission, KVM control, and video wall management, while advanced visualizer models support live streaming over IP networks.
Network Compatibility
As an authorized partner, Lumens engineers have worked with Zyxel Networks to ensure compatibility with 1G and 10G switches. With excellent support available from network specialists, this cooperation makes deployment fast, efficient, and straightforward.