Bringing Networks a New Revolution in Video Distribution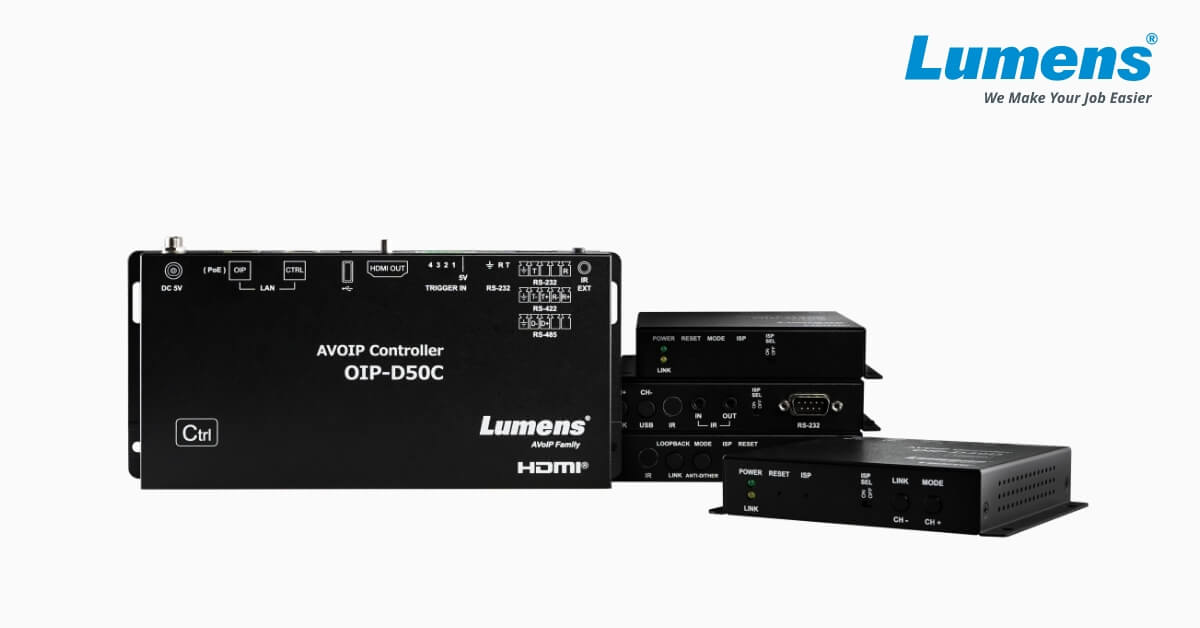 Hsinchu, Taiwan, June 1, 2021 – Lumens® Digital Optics Inc., today introduced a new product family, AV over IP. The first OIP 1Gbps solution includes encoders (OIP-D50E, OIP-D40E), decoders (OIP-D50D, OIP-D40D), and the controller (OIP-D50C). The OIP series delivers visually lossless 4K/1080p AV signals with ultra-low latency over long distances through standard IP networks. The solutions are ideal for a wide range of environments, such as sports bars, casinos, sports arenas, and control rooms, etc.
The OIP-D50E/D50D 4K AVoIP encoder and decoder delivers up to 4K@30Hz 4:4:4 high video quality signal with no visible delay. With Lumens powerful visually lossless compression technology, the OIP-D50 series enables shrinking 4K video size without losing video quality at a fast speed, while the OIP-D40E/D40D encoder and decoder support a resolution up to 1080p.
With an OIP-D50C controller, users can manage all encoders and decoders remotely in one place. OIP-D50C allows users to instantly monitor and control video distribution via the user-friendly Web GUI. Simply drag and drop the video source to display, and you can instantly change content that suits your video presentation needs. Through the OIP-D50C, users can easily set up video walls, which dramatically enhances the visual experience.
Compared to traditional matrix switches limited by distance, Lumens AV over IP is much more applicable for long-distance installation. Signal transmitting via IP packets gives users significantly more flexibility and scalability for integration. With the Lumens OIP series, you can easily roll out your AV systems with long-distance transmission.
Lumens innovative AV over IP solution is designed to address the challenges that system integrators encounter when installing equipment and provide a high-efficiency, flexible and cost-effective solution.