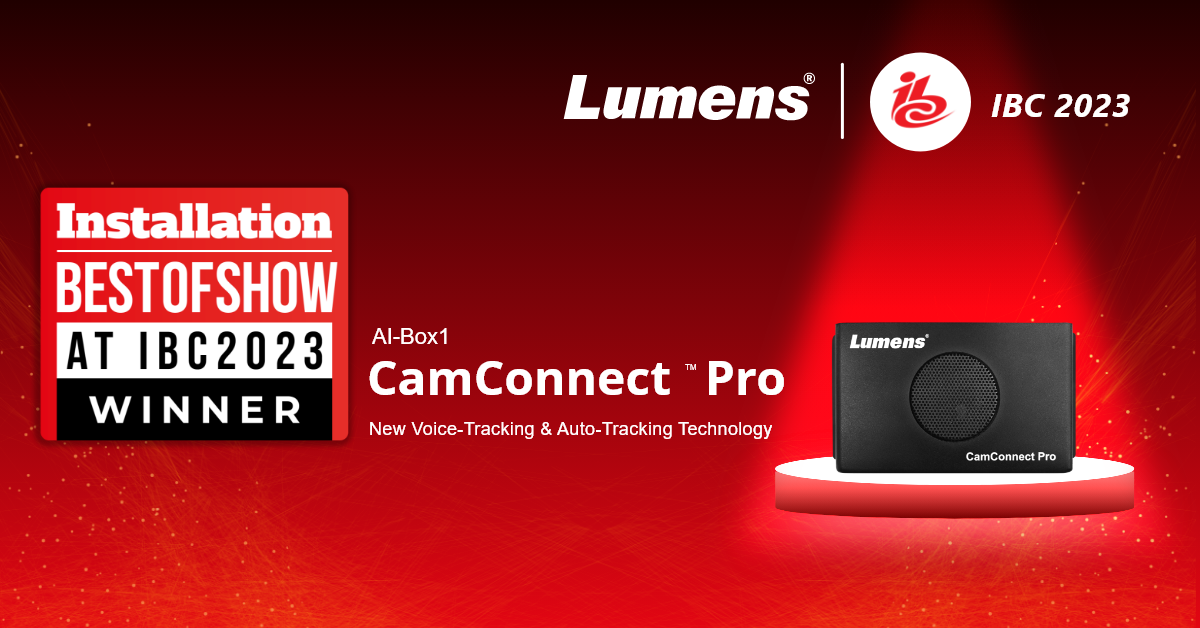 Hsinchu, Taiwan, September 26, 2023 – Lumens® was awarded Best of Show by Installation International at IBC 2023. This was CamConnect's first showing at the Amsterdam broadcast show where customers were able to see the product in action. Its ability to automate video production could revolutionize the workflow implemented by small video studios and in visual radio.

In a tightly contested field, CamConnect Pro was selected alongside other winners including Amazon Web Services and Vizrt. Earlier this year, CamConnect Pro was recognized for an award at Infocomm USA 2023 in the AV Technology section.

Steven Liang, VP of Product Development at Lumens Digital Optics Inc. noted:

"This is a prestigious award which demonstrates the versatility of CamConnect. Its appeal to broadcasters and producers at the event was clear and we are excited about how voice tracking will be incorporated in video production in the years to come."

Working with multiple Lumens IP PTZ units, CamConnect uses live directional data from Nureva, Sennheiser, Shure and Yamaha microphone arrays. CamConnect then automatically switches between camera positions to focus on the active voice in a discussion. The technology is optimized for all kinds of group interaction, including video conferences, education and studio productions.

The Installation International awards' editorial team said: "This year, we received a record number of entries and the quality across the board was incredible. Those who won should be extremely proud of their achievement - their product showed true innovation and hugely impressed our judging panel. A well-deserved congratulations from the entire awards team."

CamConnect Pro is available now from Lumens' global network of distributors.


More Details
For more information about Lumens CamConnect Pro AI-Box1, CamConnect Processor, please visit:
https://www.mylumens.com/en/Products_detail/1094/CamConnect-Pro-AI-Box1

About Lumens
Lumens® Digital Optics Inc., a Pegatron Group company, is a leader in optical products. Lumens' product offerings include CamConnect Pro, HD and 4K PTZ cameras, auto-tracking and auto-framing cameras, media processors, IP transmitters and decoders and document cameras. Founded in 1998, the company was created by a team with a deep technological heritage of image processing, video electronics, and optical technology. With the support of the Pegatron Group, Lumens is continuously improving product designs to be used in video studios, live events, classrooms, conference rooms, and for distance learning. For more information, visit Lumens website.

Press Contact, Lumens
Eling Chen, Marketing Manager
Email: eling.chen@lumens.com.tw, Phone: +886-3-552-6255 ext. 238