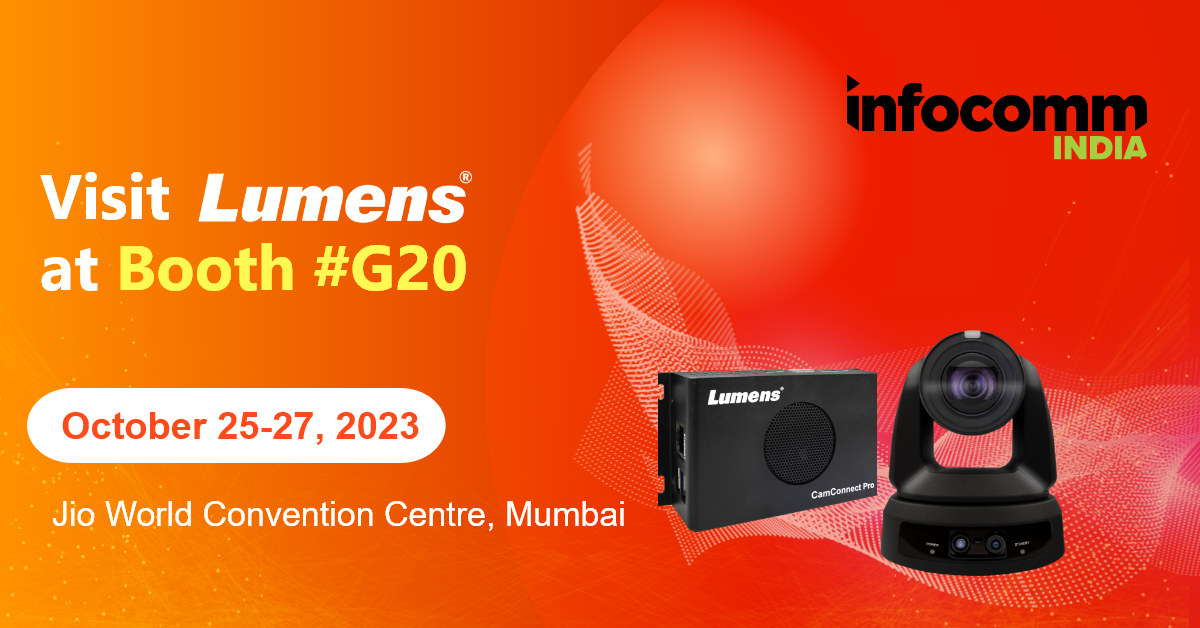 Mumbai, InfoComm India 2023 (Booth no.G20), September 27, 2023 – Lumens® Digital Optics Inc. is delighted to announce its presence at InfoComm India 2023. Making their debut on the stand are the CamConnect Pro voice-tracking solution, VC-TR70 4K PTZ auto-tracking camera, new LC300 4-Channel full bandwidth NDI media processor and the new OIP-N encoder and decoder series.

CamConnect Pro is a step-change in hybrid meeting equity. The solution transform video conferencing from a passive experience featuring an ultra-wide angle view of an entire room, to an equitable session where in-room delegates and remote guests can interact in a purposeful and meaningful manner.

"We're excited to announce a collaboration with Sennheiser (Booth #F35) to unveil the revolutionary CamConnect Pro voice-tracking solution at InfoComm India 2023. This marks a significant milestone for the ProAV industry, as Lumens and Sennheiser join forces to redefine the future of audio-visual experiences." Commented Shubhra Sharma, India Sales Head at Lumens.

Working in tandem with Sennheiser TeamConnect Ceiling Medium (TCCM), Lumens CamConnect Pro receives real-time sound location data to intelligently direct in-room PTZ cameras. The integration of the two technologies instantly enhances remote delegate engagement and encourages a new level of multi-site interaction.

Alongside voice-tracking technology, Lumens will launch new VC-TR70 auto-tracking PTZ camera. With dual panoramic tracking cameras and human detection technology, VC-TR70 tracks presenters and lecturers to deliver superb results. This flexibility and its 30x zoom makes it suitable even for large event spaces.

Lumens' upcoming LC300 live streaming and video recording solution will be first introduced at InfoComm India to enhance communication in education, corporate and public sector environments. The device is a 4-channel full bandwidth NDI media processor. It seamlessly handles switching, mixing, recording, and streaming tasks with a simple interface. OIP-N encoder and decoder series offers incredibly broad video over IP format support, including RTSP, RTMP, SRT, NDI HX3 and HX2. OIP-N operates at very low latency, making it suitable for demanding live production environments.


More Details
For more information about Lumens InfoComm India 2023, please visit:
https://www.mylumens.com/en/Page/90/Lumens-InfoComm-India-2023

About Lumens
Lumens® Digital Optics Inc., a Pegatron Group company, is a leader in optical products. Lumens' product offerings include CamConnect Pro, HD and 4K PTZ cameras, auto-tracking and auto-framing cameras, media processors, IP transmitters and decoders and document cameras. Founded in 1998, the company was created by a team with a deep technological heritage of image processing, video electronics, and optical technology. With the support of the Pegatron Group, Lumens is continuously improving product designs to be used in video studios, live events, classrooms, conference rooms, and for distance learning. For more information, visit Lumens website.

Press Contact, Lumens
Eling Chen, Marketing Manager
Email: eling.chen@lumens.com.tw, Phone: +886-3-552-6255 ext. 238