Elevating HD Video Capture with Intelligent Motion Detection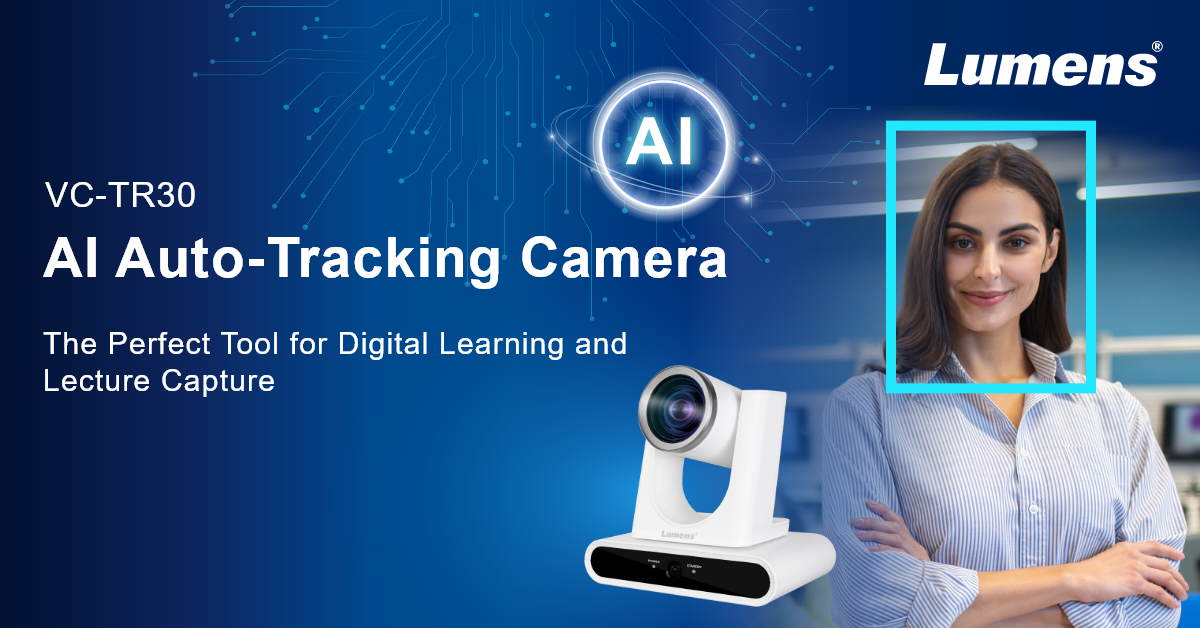 Hsinchu, Taiwan, October 12, 2023 – Lumens® Digital Optics Inc. is launching its new VC-TR30 AI Auto-Tracking Camera, a cost-effective auto-tracking PTZ camera with exceptional HD video output. Low profile and easy to install, VC-TR30's intelligent human detection system enables the camera to identify human faces and track an individual as they move across a stage, studio, or meeting space. The camera is available worldwide from distributors worldwide and ships with a 5-year warranty in most regions.

"We have seen phenomenal interest in auto-tracking from education, houses of worship and conference production, and studio managers." Commented Steven Liang, VP of Product Development at Lumens Digital Optics Inc. "The announcement of the VC-TR30 delivers auto-tracking at a new price point, with no compromise on video quality, and we expect it to be very well received."

Lumens manufactures a range of HD and 4K auto-tracking PTZ cameras. Each includes tracking modes that allow the user to define shooting zones and exclusion areas. These settings ensure that the camera is not distracted by individuals passing near the frame. Together with the self-learning AI processor, they give VC-TR30 the ability to identify, lock onto and track an individual with impressive accuracy.

Featuring the latest generation HD sensor, the camera performs very well in all lighting conditions. Paired with a 12x wide angle zoom lens (72.5° horizontal frame of view), VC-TR30 can be wall-mounted or suspended from a ceiling, giving installers the freedom to position the unit to achieve the required shooting angle.

Power can be supplied by the DC adapter or over the network via a PoE switch. The camera outputs video thru its HDMI, USB, and Ethernet ports simultaneously. Attached to a 1G switch, VC-TR30 benefits from single cable connection, with control, video and power all transmitted over Ethernet. The IP video can be streamed directly to a platform such as YouTube or Livestream, ingested into software production systems including vMix, Wirecast and OBS Broadcast, or used with video conferencing software via Lumens Virtual Camera 2.0 application.


More Details
For more information about Lumens VC-TR30 AI Auto-Tracking Camera, please visit:
https://www.mylumens.com/en/Products_detail/1110/VC-TR30-AI-Auto-Tracking-Camera

About Lumens
Lumens® Digital Optics Inc., a Pegatron Group company, is a leader in optical products. Lumens' product offerings include CamConnect Pro, HD and 4K PTZ cameras, auto-tracking and auto-framing cameras, media processors, IP transmitters and decoders and document cameras. Founded in 1998, the company was created by a team with a deep technological heritage of image processing, video electronics, and optical technology. With the support of the Pegatron Group, Lumens is continuously improving product designs to be used in video studios, live events, classrooms, conference rooms, and for distance learning. For more information, visit Lumens website.

Press Contact, Lumens
Eling Chen, Marketing Manager
Email: eling.chen@lumens.com.tw, Phone: +886-3-552-6255 ext. 238