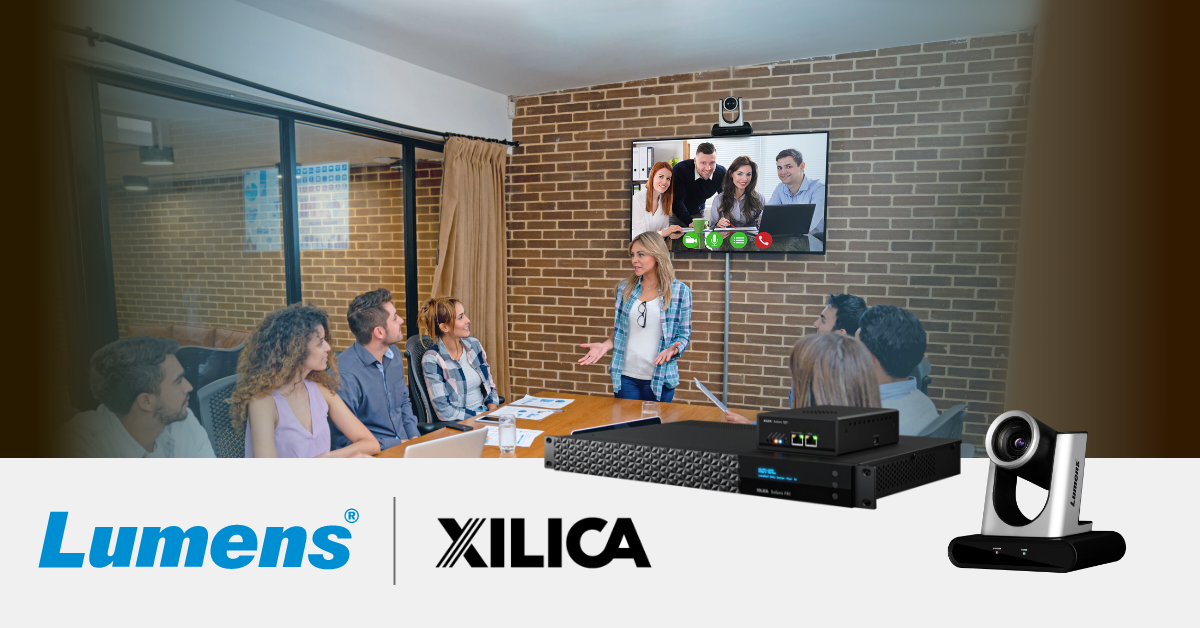 Hsinchu, Taiwan, August 08, 2023 – Lumens® Digital Optics Inc. has announced a partnership with collaboration specialist Xilica to drive intelligent AV automation in meeting spaces. With the integration, Lumens' PTZ (pan, tilt, zoom) cameras are able to integrate with Xilica's IP-based audio systems to deliver in-room sound with voice-tracking video, enhancing communications both internally and externally with remote guests.

Lumens' professional PTZ camera range is built around a precise, quiet and reliable robotic mechanism and industry-standard control protocols. With this partnership, the camera is sent real-time positioning co-ordinates by Xilica's Follow Me camera-tracking module which works in conjunction with a range of beamforming ceiling microphone arrays. Once activated, the PTZ camera will automatically track the active talker in the room, enabling remote guests to follow the conversation and engage more fully with the discussions.

"Voice-tracking is seen as an increasingly essential part of the AV installation as organizations strive to deliver meeting equity for remote meeting attendees." Said Steven Liang, VP of Product Development at Lumens. "The integration with Xilica's camera-tracking module now means that customers can enjoy rapid deployment of an automated solution for small-sized meeting rooms."

The integration takes advantage of Xilica's intuitive template-based software which simplifies the installation and set up of the camera with the microphone array. Requiring no coding or programming, the solution is designed to run autonomously, eliminating the need for user input during a meeting and reducing the overhead on the AV team.

"We are bringing sound and video together over the network in a way that drives interaction and connection between presenter and audience, no matter the scale of the system or room configuration," said Shaun Robinson, VP Product, Xilica. "This solution ultimately eliminates the need for users to directly control cameras during a conference or classroom session in any collaborative environment, while giving them the freedom to fully-utilise their space and communicate in a way that is natural for them."

The integrated Xilica-Lumens solution is available from mutual distribution partners in North America, Europe, and Asia-Pacific.
More Details
For more information about Lumens Full HD IP PTZ Camera (VC-R30), please visit:
https://www.mylumens.com/en/Products_detail/1073/VC-R30-Full-HD-IP-PTZ-Camera

For more information about Lumens Full HD PTZ Camera (VC-A51P), please visit:
https://www.mylumens.com/en/Products_detail/1076/VC-A51P-Full-HD-PTZ-Camera

About Lumens Digital Optics Inc.
Lumens® Digital Optics Inc., a Pegatron Group company, is a leader in optical products. Lumens' product offerings include HD and 4K PTZ cameras, auto-tracking and auto-framing cameras, media processors, IP transmitters and decoders and document cameras. Founded in 1998, the company was created by a team with a deep technological heritage of image processing, video electronics, and optical technology. With the support of the Pegatron Group, Lumens is continuously improving product designs to be used in video studios, live events, classrooms, conference rooms, and for distance learning. For more information, visit Lumens' website.

Press Contact, Lumens
Eling Chen, Marketing Manager
Email: eling.chen@lumens.com.tw, Phone: +886-3-552-6255 ext. 238