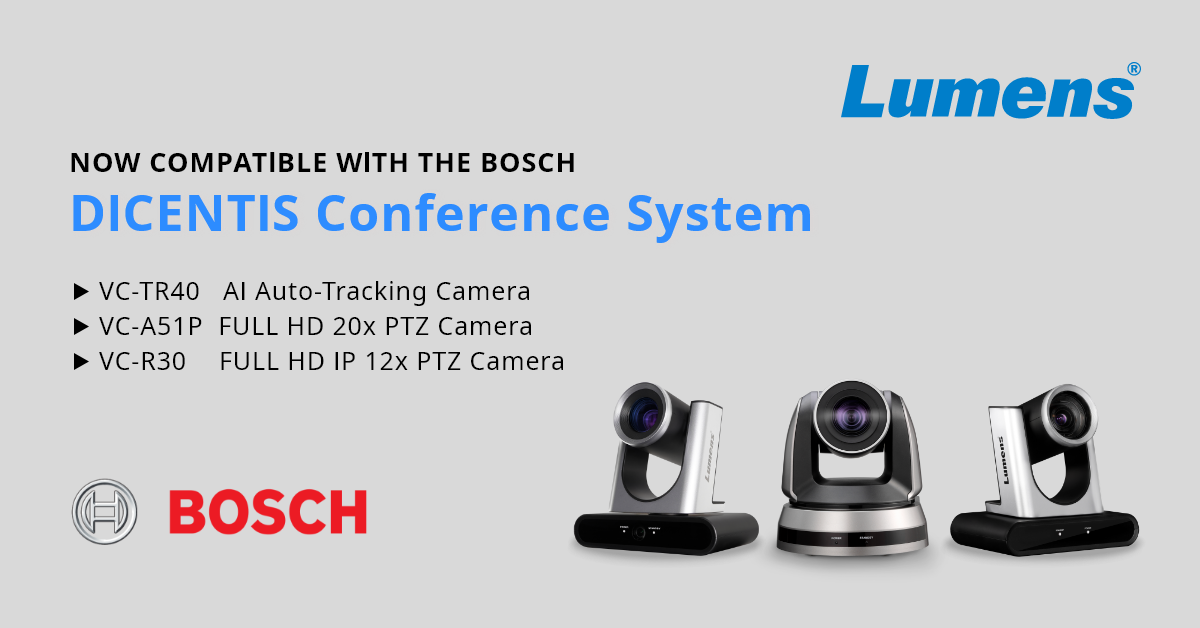 Hsinchu, Taiwan, July 25, 2023 – Lumens® Digital Optics Inc. has announced that three additional PTZ cameras have passed the rigorous compatibility process for Bosch's popular DICENTIS Conference System. Lumens VC-A51P, VC-TR40 and VC-R30 cameras are now compliant with DICENTIS, giving customers access to a new generation of cost-effective models which incorporate advanced features including intelligent tracking and framing technology.

Bosch DICENTIS is a leading multi-lingual conference system which manages communications in meetings, whether they are small scale or at an international level. Lumens has an ongoing relationship with Bosch, resulting in countless successful local and global projects.

Now adding a model from the TR range, customers can benefit from AI-based auto-tracking and dynamic auto-framing which will deliver an enhanced audio-visual experience for delegates in small and medium sized meeting rooms. The VC-A51P gives conference producers access to a 20x zoom camera with super-smooth robotics, while the low-profile VC-R30 is ideal for more intimate meeting spaces.

"Our relationship with Bosch is long-standing, with many successful integrations worldwide. These Lumens models give DICENTIS users exceptional video quality and full SDI, HDMI, USB and IP connectivity, alongside powerful zoom lenses to deliver all-round performance." Said Steven Liang, Head of Product Development at Lumens.

VC-A51P, VC-TR40 and VC-R30 are available from resellers and integration partners worldwide and are covered by a 5-year warranty in most territories.
More Details
For more information about the integration of Lumens cameras with Bosch DICENTIS Conference System, please visit:
https://www.mylumens.com/en/Page/12/lumens-bosch-professional-conference-solutions

About Lumens Digital Optics Inc.
Lumens® Digital Optics Inc., a Pegatron Group company, is a leader in optical products. Lumens' product offerings include HD and 4K PTZ cameras, auto-tracking and auto-framing cameras, media processors, IP transmitters and decoders and document cameras. Founded in 1998, the company was created by a team with a deep technological heritage of image processing, video electronics, and optical technology. With the support of the Pegatron Group, Lumens is continuously improving product designs to be used in video studios, live events, classrooms, conference rooms, and for distance learning. For more information, visit Lumens website.

Press Contact, Lumens
Eling Chen, Marketing Manager
Email: eling.chen@lumens.com.tw, Phone: +886-3-552-6255 ext. 238