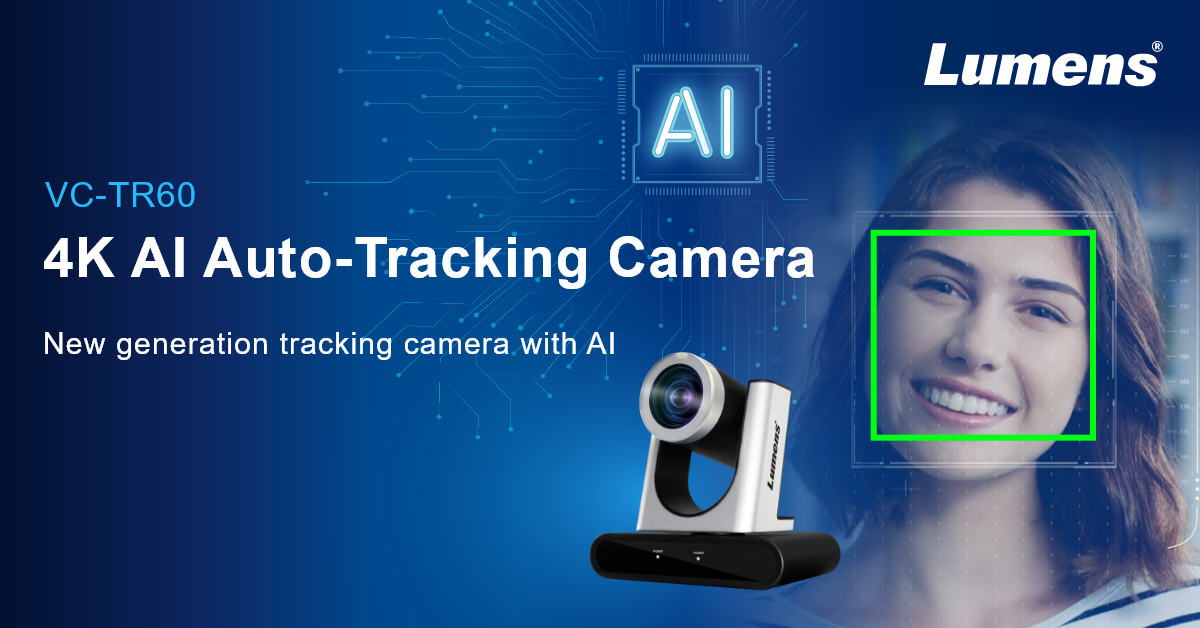 Hsinchu, Taiwan, May 22, 2023 – Lumens® Digital Optics Inc. is launching its new ultra-wide VC-TR60 4K AI auto-tracking camera with a new generation, high sensitivity sensor. The lens provides an 81° maximum horizontal viewing angle, making it suitable for use in huddle spaces, classrooms, studios and indoor sports arenas where a wide-angle lens is a critical requirement.

Equipped with SDI, HDMI, IP and USB outputs and supporting power over Ethernet, the VC-TR60 is ready to integrate with video production workflows, video conferencing installations and streaming solutions.

"Customers have been asking us for an UltraHD camera with a very wide viewing angle. The 81° goes well beyond the normal horizontal angle of a PTZ unit and will make an installer's life so much easier. Placed in a huddle space, radio studio or classroom, it can shoot an entire room. Its 12x optical lens is partnered with auto-framing technology which means that it has the flexibility to capture the perfect angle every time." Commented Steven Liang, Head of Product Development at Lumens.

The camera's PTZ mechanism uses standard VISCA control and supports up-to 255 preset positions. Importantly, it also includes Lumens' latest AI technology which enables autonomous intelligent tracking.

"Position the VC-TR60 in a lecture hall and it can be used to shoot the full width of a stage and the entire auditorium. However, as soon as auto-tracking is enabled, the camera will closely track the presenter's movement to deliver superb results in combination with e-learning and streaming applications." Liang continued.

Lumens VC-TR60 will be unveiled at InfoComm Asia on the 24th-26th May on stand D07.

More Details
For more information about Lumens InfoComm Asia 2023, please visit:
https://www.mylumens.com/en/Page/81/Lumens_InfoComm_Asia_2023

About Lumens
Lumens® Digital Optics Inc., a Pegatron Group company, is a leader in optical products. Lumens' product offerings include HD and 4K PTZ cameras, auto-tracking and auto-framing cameras, media processors, IP transmitters and decoders and document cameras. Founded in 1998, the company was created by a team with a deep technological heritage of image processing, video electronics, and optical technology. With the support of the Pegatron Group, Lumens is continuously improving product designs to be used in video studios, live events, classrooms, conference rooms, and for distance learning. For more information, visit Lumens website.


Press Contact
Eling Chen, Marketing Manager
Email: eling.chen@lumens.com.tw, Phone: +886-3-552-6255 ext. 238