Simplify the Integration and Camera Control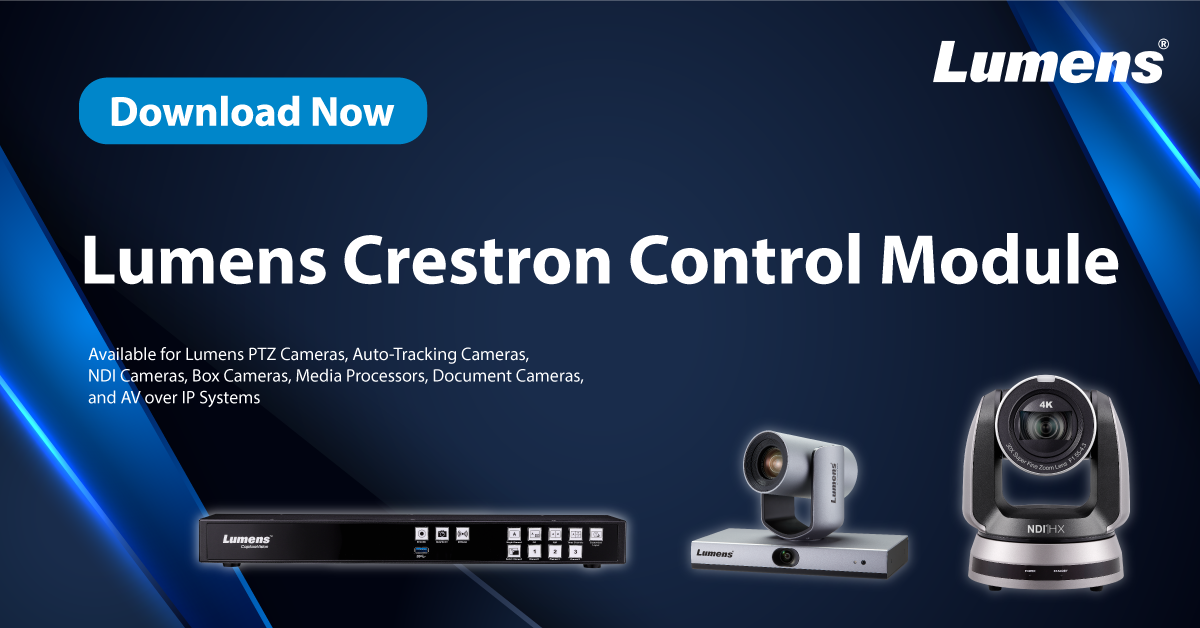 Hsinchu, Taiwan, October 27, 2022 – Lumens® Digital Optics Inc. today announced the availability of a new Crestron control module for our new VC Camera. The module seamlessly connects Lumens cameras and the Crestron control system via IP or RS-232 allowing users to remotely control Lumens cameras' Pan-Tilt-Zoom mechanism, preset positions, as well as auto-framing and auto-tracking functionalities. The integration between Lumens and Crestron simplifies camera control, streamlines AV installations, and enhances the user experience.

The module is compatible with Lumens PTZ Cameras, Auto-Tracking Cameras, NDI Cameras, Box Cameras, Media Processors, Document Cameras, and AV-over-IP Systems. It enables integrators to connect equipment to Crestron room systems without the need to program individual controllers or learn new control protocols. The module helps minimize installation costs, reduces training requirements, and simplifies an organization's AV workflows.

Steven Liang, VP of Product Development for Lumens commented: "This new module gives customers the confidence to invest in the latest Lumens technology and quickly integrate it into their existing Crestron ecosystem. Such third-party integrations are vital to our customers across the industry, whether it's for the public sector, education, or commercial use."

Bob Bavolacco, Director of Technology Partnerships at Crestron added: "Crestron realizes that our customers want options when it comes to integrating their preferred devices into their Crestron room ecosystem, and this new module gives them the freedom to accomplish just that".

【Availability of Lumens Crestron Control Module】
Free software download at Crestron Application Market
https://applicationmarket.crestron.com/lumens-digital-optics-inc/

Free software download at Lumens Website
https://www.mylumens.com/en/Downloads?keyword2=&id=0&keyword=crestron

【Press Contact】
Jasmine Fan, Marketing Manager
Email: Jasmine.Fan@lumens.com.tw; Phone: +886-3-552-6255 ext. 227

【Information】
For more information about Lumens, visit: www.MyLumens.com
Follow Lumens on Facebook: https://www.facebook.com/Lumensinc
Follow Lumens on Twitter: https://twitter.com/LumensLadibug
Follow Lumens on LinkedIn: https://www.linkedin.com/company/lumens-digital-optics
Follow Lumens on YouTube: https://www.youtube.com/c/MyLumens

【About Lumens Digital Optics Inc.】
Lumens® manufactures broadcast-quality PTZ cameras, video conferencing cameras, document cameras, wireless collaboration technology, video processing systems, and video over IP devices. Based in Taiwan and part of the Pegatron Group, Lumens has offices in Asia, Europe, and the USA.

【About Crestron Electronics】
At Crestron, we build technology for every way people work, everywhere in the world – from desktop to boardrooms, offices to multi-nationals. Technology that adapts to what you have and prepares you for what you'll need. Platforms, devices, and systems designed to improve communication and collaboration. All managed by a cloud-based system for easy deployment, monitoring and upgrading. At Crestron, we create faster, better, simpler solutions so people can work faster, better, and more productively. Discover Crestron at www.crestron.com.